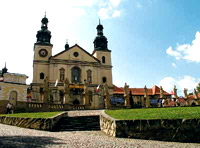 Krakow – Wadowice – Auschwitz – Czestochowa - Warsaw
Day 1:
Arrival to Balice Airport in Krakow, transfer to the hotel, dinner at the hotel restaurant, overnight.
Day 2: Krakow
Breakfast. Guided tour of Krakow. During sightseeing we will visit: the Old town with medieval defensive walls with Barbican, the Main Market Square with St. Mary's Basilica, Bishops' Palace, The Wawel Hill with the Cathedral and Royal Castle. Break for lunch.
After lunch – visiting the former Jewish district of Krakow with numerous synagogues and the oldest sanctuary of St. Stanislaw – patron of Poland. Dinner in the restaurant in the district.
Day 3: Krakow
Breakfast. Visit to the Sanctuary of Divine Misericordia in Lagiewniki. Holy Mass in the old chapel of the sanctuary, in front of the tomb of Saint. Faustina Kowalska. Leisure time. Departure to Wieliczka Salt Mine –lunch. After lunch visit to the unique Wieliczka Salt Mine the oldest salt mine in Europe with many salt sculptures and chapels carved in salt. Return to the centre, dinner.
Day 4: trip to Zakopane and Pieniny
Breakfast. Whole day trip to Polish mountains: rafting on the wooden boats through Dunajec River Gorges in Pieniny National Park. Break for lunch in Szczawnica - famous for its mineral water springs.
After lunch drive to Zakopane – visiting the town picturesque for its highlander's folklore.
Dinner in a regional inn with live music. Late evening return to Krakow.
Day 5: Trip on the steps of John Paul II
Breakfast. Departure to Wadowice via Kalwaria Zebrzydowska with famous St. Mary's Sanctuary. Visiting the family house of John Paul II.
On the way to Oswiecim – brak for lunch in the open-air museum .
After lunch – visiting the Martyrology Museum Auschwitz- Birkenau .
Return to Krakow. Overnight.
Day 6: Krakow – Częstochowa – Warsaw
Breakfast. Departure to Warsaw via Czestochowa – visiting the sanctuary of Jasna Gora with the famous Black Madonna Shrine. Participation in the Holy Mass. Visiting the sanctuary. Break for lunch. After lunch departure to Warsaw – dinner at the hotel restaurant.
Day 7: Warsaw
Brakfast. Guided sightseeing of the Polish capital : Lazienki Park with
Fr. Chopin monument, Palace on the water ; the Warsaw Old town with trhe Royal Castle. Brakd for lunch in the centre. Afternoon leisure time.
Dinner in the centre.
Day 8: Warsaw
Breakfast. Departure to Zelazowa Wola – visit the Frideric Chopin family house. Listetning to the piano concert. Break for lunch. After lunch departure to the Warsaw airport.