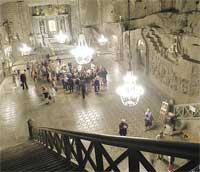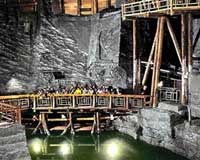 Unique Salt Mine in Wieliczka
One of the oldest mines in Europe. On UNESCO's List of World Heritage, the Wieliczka salt mine (13th century) is one of the oldest world's mining sites still in uninterrupted operation.
The underground tourist route leads through a labyrinth of galleries and caves with unique sculptures, all carved in rock salt.St Kinga's Chapel at the depth of 101 meters is the most beautiful chamber decorated with white crystal salt chandeliers and bas-relief sculptures carved in grey salt. The mine hosts a sanatorium. The museum display shows mining tools and documents related to the mine's history.