Sandomierz - Kazimierz - Pulawy - Lublin - Zamosc the cities which abound with the Renaissance monuments will let you feel their unique atmosphere
Day 1 Sandomierz: check in, dinner, overnight
Day 2 Sandomierz: Breakfast, Sandomierz sightseeing: the monastery with St.Michael's church, St.Joseph's church, the Abbot Gate (partly an underground track), dinner, overnight.
Day 3 Kazimierz: Breakfast, Kazimierz sightseeing, cruise on the Vistula river; free time, dinner, overnight.
Day 4 Pulawy – Naleczow : Breakfast, departure to Pulawy where we visit to the classicistic monastery with park departure to Naleczow - a visit to the Malachowski Palace and to the Mineral Waters Pump-Room; arrival in Lublin, check in, dinner, overnight.
Day 5 Lublin: Breakfast, Lublin sightseeing : Krakow Gate, Old Town, Dominican Friars monastery, Cathedral; leaving for Zamosc - free time, dinner, overnight
Day 6 Zamosc: Breakfast, city sightseeing : Lvov Old Gate,Synagogue, Salt Market, Lubelska Gate; dinner,departure
A route starting in the Karkonosze range and ending in the Tatra Mountains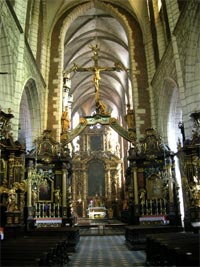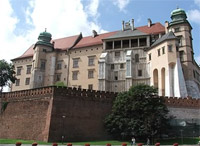 Day 1 Arrival in Jelenia Gora: Check in, a stroll into town, dinner, overnight.
Day 2 Swieradow – Jelenia Gora: Breakfast, a day trip along the Karkonosze Range starting from Swieradow Resort where the Karkonosze museum is worth a visit, to Karpacz where a beautiful 13th century wooden church (brought over from Vang in Norway in 19th century) is a real tourist attraction. Next you will be taken in a cable car up to the top of the mountain to admire splendid views. Return to Jelenia Gora, dinner, overnight.
Day 3 Ksiaz – Klodzko: Breakfast, a trip to Ksiaz to visit the Silesia's largest castle from the 16th century, Drive to Klodzko, sightseeing of the city where Baroque Franciscan church and monastery boast of beautiful polychrome in the refectory. A late afternoon arrival in Krakow, check in, leisurely stroll in the Old Town, dinner, overnight.
Day 4 Krakow: Breakfast, sightseeing of the city: Wawel, Market Square, Jagiellonian University, afternoon sightseeing tour to Wieliczka Salt Mine, dinner either in Hawelka or in a restaurant in old Jewish quarter - Kazimierz with folk live music concert. Overnight.
Day 5 Szczawnica – Zakopane: Breakfast, a day trip to Szczawnica and Zakopane; a rafting trip on a wooden raft through the breathtaking Dunajec River Gorge in the Pieniny Mountains, lunch in a regional restaurant in Zakopane followed by a funicular ride up to Gubalowka summit, return to Krakow; dinner, overnight.
Day 6 Wroclaw: Breakfast, leaving for Wroclaw, check in, city sightseeing: the Cathedral, Ostrow Tumski, Market Square, Leopoldine Auditorium; Dinner at Spiz restaurant, overnight.
Day 7 Departure

The route goes through the cities of the south-central Poland. You will visit the most magnificent monuments, you will take part in most unusual features such as folk wedding ceremony and Fryderyk Chopin music concert.
Day 1: Breakfast, arrival in Wroclaw; a guided city tour : the Main Market Square with Town Hall, St. Elisabeth's Church, University District, Ostrow Tumski with the Cathedral. Dinner, overnight.
Day 2: Breakfast, en route we stop at Trzebnica to pay visit to a famous Cistercian monastery and the tomb of St.Jadwiga;Poznan - city sightseeing tour - Ostrow Tumski with the Cathedral, the Market Square, Baroque parish church. Dinner, overnight
Day 3: Breakfast, trip to Lowicz and Maurzyce to take a walk in an open-air museum followed by a lunchand a folk wedding ceremony feature. A trip to Zelazowa Wola to visit Chopin's biographic museum. Departure to Warsaw, overnight, dinner.

Day 4: Breakfast, morning sightseeing tour: the Royal Castle, Royal Road, Old Town Square, Cathedral, Barbican, Grand Theatre, Wilanow, dinner - free time. Afternoon sightseeing tour: Lazienki Palace, Chopin's music concert, dinner, overnight
Day 5: Breakfast, drive to Czestochowa, visit to The Black Madonna Shrine which is the destination place for numerous pilgrimages. Arrival to Oswiecim sightseeing tour. Arrival to Krakow, dinner, overnight
Day 6: Breakfast, city sightseeing tour: University District (Collegium Maius), Jewish District, Wawel Hill with the Cathedral and the Castle, The Main Market Square and the Cloth Hall, Visit to Wieliczka Salt Mine; dinner, overnight.