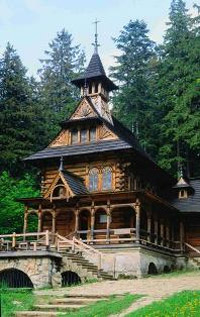 Zakopane - a town at the foot of Tatra Mountains- the highest mountains in Poland our regional, called mini Alps. The town is situated in southern Poland, about 100 km to the south of Krakow, close to the border with Slovakia. The centre is situated at about 840 m above sea level, but some parts are even higher as 1000 m above sea level on the slopes of Gubalówka - a hill that borders the town from the south.
In the XIX century Zakopane became famous as a tourist and health resort and got status of a health resort, later on it received the town statute. Although Zakopane is known mainly as a tourist and winter sports centre, it also takes an important role in Polish culture. Zakopane is a place where people cultivate their own customs - songs, dances, local dialect and highlander craftsmanship. There are many folk groups supported by the local authorities.
In Zakopane there is pulse life in day and night. When you are going the main street which is named Krupówki you can see on the both sides of the street many shops with souvenirs, restaurants and bars. The mountain regional inns with traditional kitchen and unique decoration with national local harmony are the special attractions for everybody arriving to Zakopane.