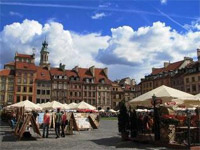 Every year, Poland is visited by millions of tourists. They leave with wonderful memories, willing to come back for more. Here, everyone can find something interesting.
Museums, modern art galleries and concert halls on a par with swimming pools, discos and night clubs: all is here to satisfy even the most demanding guests.
Visitors can feel truly welcome in Poland and experience the remarkable traditional Polish hospitality. The Poles like to entertain guests at their homes; such friendly encounters, conversations and laughs will surely remain in your memory for a long time.
Poland's natural environment makes active rest and recreation possible at any time of the year.
In many regions of Poland natural sites have been preserved in their primeval state, rarely encountered in other parts of Europe. On the other hand the modern leisure infrastructure provides for recreation of the highest standard.
Poland's climate ensures favourable conditions for entertainment and leisure activities throughout the year thanks to our natural and cultural treasures.We guarantee nobody will leave Poland disappointed.