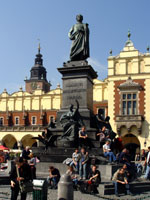 Krakow- cultural capital city of Poland, the centre of science, culture and art, full of architectonic monuments and works of art.

City of the oldest university in Poland and one of the oldest in Europe - Jagiellonian University. This remarkable city is visited by millions of tourists every year.
You will find 2000 reasons and more to visit Krakow - the city of European Culture in the year 2000. Krakow offers a wide range of hotels.

In 1987 the historical architectural section of Krakow - Old Town, was placed on the UNESCO list of the World's Cultural Heritage.

We give you the opportunity to see one of the most beautiful cities in Europe. We will be your guide.